"The true experience of freedom is:
to have the most important thing in the world,
without owning it."
[Paulo Coelho]
Give yourself more freedom.
You would like to brainstorm and talk to someone about the possibilities on how to grow your business even further?
Looking for someone who can bring new momentum to your business and not already be operationally blind and overlook the best strategies?
Maybe you already have a plan where you want to go, but the (technical) implementation gives you a headache and is a far too time-consuming challenge for you?
As an empathetic sparring partner for entrepreneurs with busy schedules, I offer you a complete solution for your business. Together we will look at your processes and daily tasks, identify the goals we can achieve quickly and brainstorm about strategies to take your business to the next level! I love variety, new challenges and I am an implementation queen. I will help you with all your (technical) challenges and find a solution that works great for you. So I give you more time for the things that are most important to you, the most fun and that make you happy.
Be the change you want to see in the world!
Hi, I'm Cindy.
Sparring partner for entrepreneurs. For more growth, sales & authenticity. I take care of your technical stuff, customer support & keep your business running!
Are you looking for reliability, personal responsibility and someone who can think 100% into your business and share your vision?
I have always been passionate about helping people and supporting them to live a happy life with ease. That's why I studied social work. At that time, I didn't know how great my desire for freedom actually was. I lived my life according to what society "intended" for me. School, high school diploma, university studies, financially successful job, etc. I have never felt comfortable with that. For me, there was always a "There must be more". And so, in February 2018, I decided to leave everything behind and set off. During my journey, I realized that this is exactly the lifestyle I've always subconsciously longed for. So I looked for a way to work location independent and discovered Virtual Assistance and with it LinkedIn. Within a year I built a successful online business, created a community of more than 1000 people, successfully launched and sold an online course, mentored many wonderful people into their free & self-determined lives and always followed my vision to make people happy.
This is how we will work together
Transparency, authenticity & reliability are important to me and I look forward to our mutual cooperation. To make it easier from the start, here are a few notes about how I work:
I work in a location-independent home office and do all sorts of tasks for you with the help of the Internet.
I prefer to work together via messenger or email.
We meet at regular intervals by phone or via Zoom to discuss upcoming projects.
I invoice you at a mutually agreed fixed monthly price through my Ltd. in Cyprus.
The most important values for a successful collaboration are honesty, trust and reliability as well as clear & timely communication with an appreciative approach.
Let's take off together as a team and make your business even more successful!
This is what my customers say about working with me...
The lovely Cindy supports me as a virtual assistant in my coaching business for LinkedIn Marketing. Thanks to her pro-active and 'getting things done' attitude, she has been super quick to get up to speed with my bilingual business and has taken a huge load off my shoulders in no time. No matter what it is, be it translations, proofreading or organizing my posts - Cindy fulfills her tasks with motivation and reliability. She communicates professionally and efficiently. What I especially appreciate about her is that I can always count on her honest and valuable opinion. Cindy is a real asset, I look forward to a further cooperation and recommend her wholeheartedly. Cécile JemmettLinkedIn Marketing for Coaches
I've been working with Cindy for half a year and I'm mega happy. She thinks along incredibly well, is reliable, fast, open, honest and creative. And she really sees herself as a sparring partner, which I find particularly valuable. She gives me great impulses for my work and doesn't just execute. Especially as a self-employed person, it's great to work in a team sometimes. With Cindy it's just fun and in the end I always (!) come up with something better than I would have done alone in my quiet room. Thank you for your commitment, your dedication and your passion 🙏🫶 Stefanie HeiserowskiWriting Coach & Editor, SCHÖNGOLD.
Cindy has been my back-office support for about 3 years now: she handles email management, keeps the website up to date, coordinates webinars, and ties up loose ends in my day-to-day work into a meaningful whole. Cindy has a great gift for quickly grasping processes as a whole and simplifying procedures on her own with the necessary technical understanding. And she does this reliably, conscientiously, with her own ideas and always ready to think her way into new tasks. Cindy's communication is always focused and appreciative, also an important point for me. A thoroughly uncomplicated, pleasant and highly recommendable collaboration! Ute Wadehn (Barf-Gut)Veterinary practitioner and nutritionist for dogs & cats
I can heartily recommend working with Cindy. Super fast and helpful, she also thinks for one. With great ideas, a lot of heart and a glow she is there. I love her fast, reliable way to implement my issues and am very happy to have her by my side! Thank you Cindy for your wonderful energy ;-), best business-support-angel! Manuela WiederSales Coach, Business Mentor, Speaker & Trainer
Working with Cindy was great and very enriching for me and my business. She finally brought structure to my small business, helped me find many new clients and on top of that was a fantastic sparring partner in our regular Zoom calls. I can wholeheartedly recommend working with her and am already looking forward to the next project with her! Xenia BluhmPersonal Branding & Business Photographer
I can recommend Cindy, super dear warm person. Much experience with programs and is not too shy to learn new things. After a short training period, she works super independently and I could start to focus on projects, while she does in the background the pending tasks and cares. Thank you, my life has become a good deal easier and I look forward to further cooperation. Stella WitrySexological Bodyworker @Stellabodywork
Cindy was recommended to me as a VA and I can fully subscribe to the recommendation. With a lot of passion, commitment and expertise Cindy has implemented our project and I am sure that our paths will cross again. I am already looking forward to our next collaboration! Sarah BergerhausenHead of Finance & Administration at Fahrrad-XXL.de
I have been working with the lovely Cindy for the past month. I would like to thank you from the bottom of my heart for the wonderful care. 💞 Choosing you as a mentor is the best thing that could have happened to me. Her kind nature helped me in many things and I felt comfortable with her at all times. If I had any questions, she was always there to help me. Thank you from the bottom of my heart, my dear Cindy. Marika AuenmüllerContent & Social Media Manager
I can heartily recommend working with Cindy! She has a very likeable manner and is a lot of fun to work with. She is also super knowledgeable, especially when it comes to LinkedIn and working out content strategies. Her support has definitely taken my business to the next level. Thank you for the wonderful collaboration! Daniela SeiberleMentor, travel blogger, influencer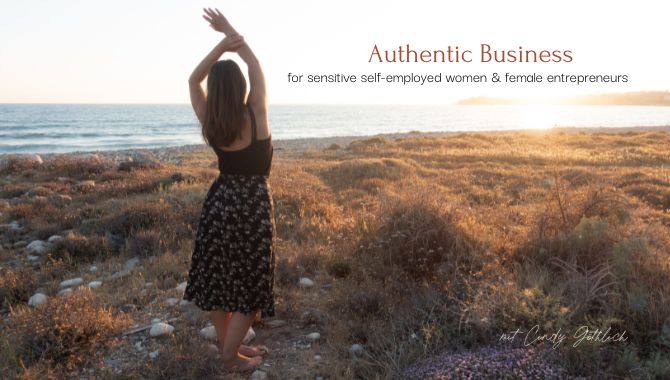 Authentic business
My free LinkedIn group for sensitive self-employed women & female entrepreneurs
Business can get pretty lonely sometimes. How about working on your goals and growing together in a community with other wonderful independent women & entrepreneurs?
Join my free LinkedIn group now and share!